Action Logger Opensource Project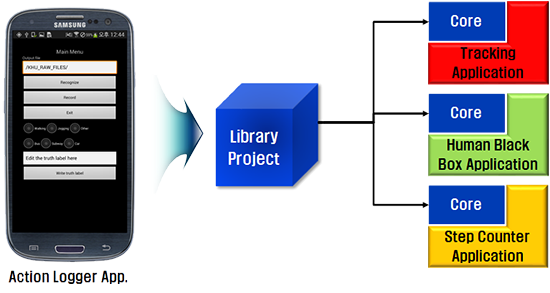 Motivation

To recognize various human activities using multimodal sensors in a Smartphone for providing personalized services.
To provide activity recognition core engine for developing smartphone applications utilizing activity information such as fitness, tracking or behavior monitor.
To utilize the cutting edge technology for processing sensor raw data from accelerometer and GPS sensor.
Goals

Our goal is to recognize 5 different activities which are stay, walking, jogging, taking a bus and subway using accelerometer and GPS sensors in Smartphone.
Also provide 3 applications - Fitness Tracking, Human Black Box and Pedometer - based on action logger core engine.
Features

Utilizing raw sensor data from accelerometer and GPS sensor in a Smartphone.
Recognizing 5 different activities - Standing Still, Walking, Jogging, Talking a bus and Subway.
Calculating consumed calorie of each activities using METs index.
Providing activity recognition core engine as Java library for developing smartphone application utilizing human's activity information.
3 example applications using action logger core engine are provided.
Novel feature extraction algorithms using SVM(Signal Vector Magnitude) and FFT are utilized for processing accelerometer data.
Classification algorithm using GMM(Gaussian Mixture Model) is utilized for training and classification phase.
Uniqueness

Action Logger utilizes only sensors embedded in a Smartphone - Acceleormeter and GPS.
Collecting, Storing and Processing gathered sensor data are handled on Smartphone platform.
Calculation of calorie consumption of each activities precisely.
The core engine is released as open source for smartphone application developers.