Abstract view of Action Logger
The Action Logger provides technology to detect userí»s activity and to calculate consumed calories.
It uses accelerometer and GPS embedded in smartphone to recognize 5 different activities which are stay, walking, jogging, taking a bus and subway.
The orientation and the position (Top/bottom pocket, bag, hand, etc) of the smartphone is irrelevant.
With action logger, you may review your daily activity and moved path with consumed calorie which could be used widely in healthcare, fitness, wellness, and entertainment services.
Action Logger has two functions. One is feature extractionand the other one is machine learning algorithm(GMM).
Figure above shows system architecture of Action Logger.
Feature Extraction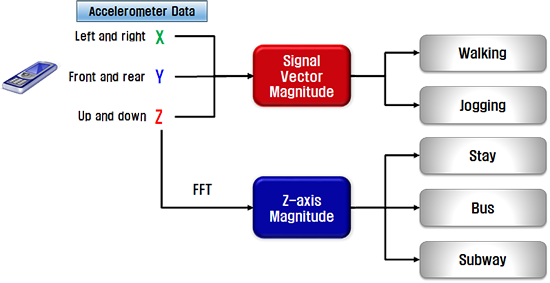 Action Logger is using machine learning Technics. There are two types feature to recognize physical Activities (stay, walking and jogging) and vehicles (subway and bus).
Physical Activites are recognized by SVM (Signal Vector Magnitude) features (average, standard devision and each X,Y,Z correlations) to recognize Activities for position independantly.
Vehicle Activities are recognized by FFT (Fast Fourier Transform) features. Because it is hard to recognize stay betwenn vehicles using only SVM features.
So we proposed new feature extraction technics through difference number of vibrations by accelerometer sensor.
Figure above shows Action Logger's feature extraction techniques.
Classification
Action Logger is using GMM(Gaussian Mixture Model) machine learning algorithm.
GMM Algorithm is very light with other machin learning algorithms like SVM(Support Vector Machine), Baysian Network , etc.
So we select GMM algorithm for porting on a smartphone. And we build optimised Activity Model using GMM.
Figure above shows how to build GMM Model.